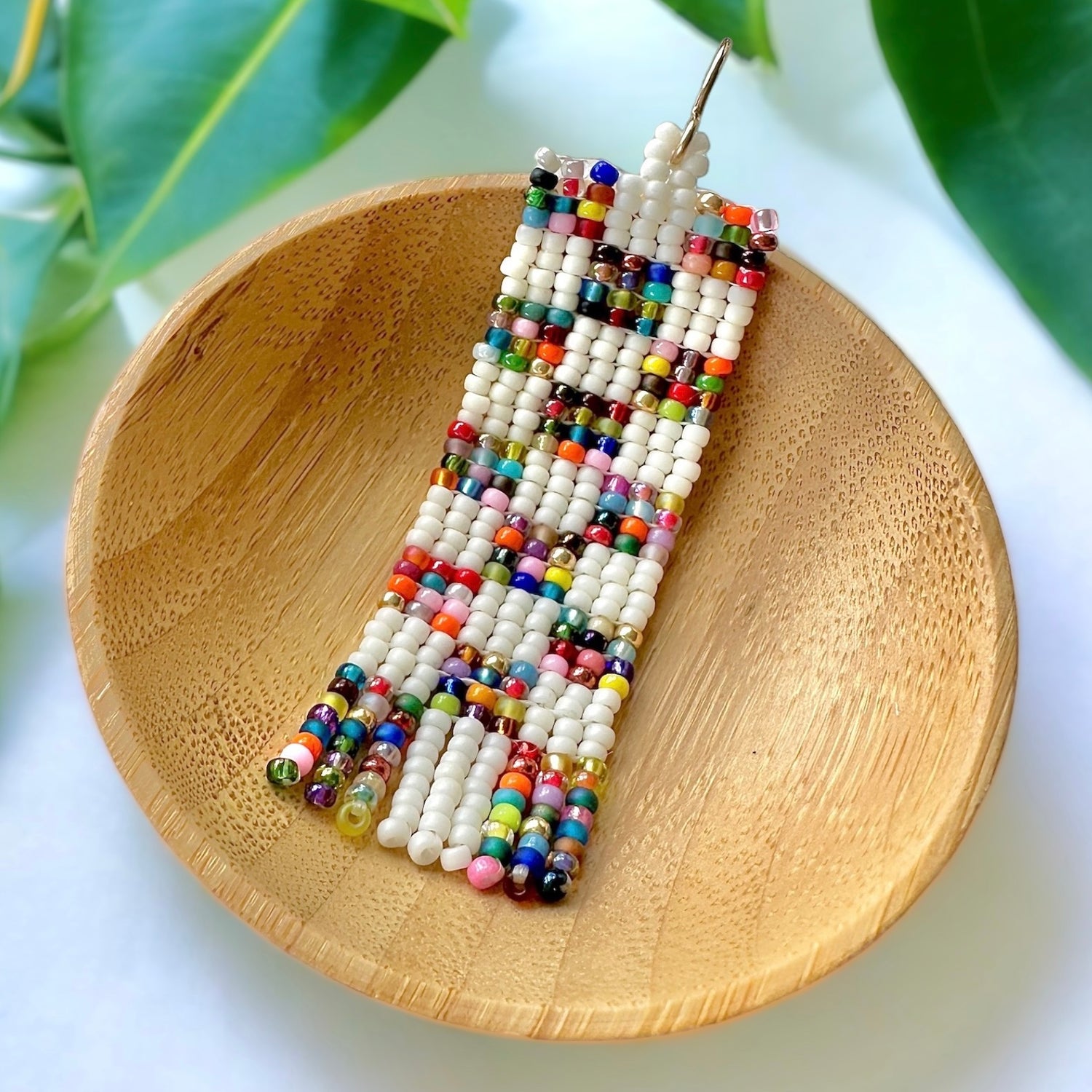 Patchwork Quilt Earrings Beading Pattern
These beaded earrings are made with Miyuki 11/0 seed beads and flat square stitch - with a bit of fringe.
Scroll down for a list of materials and the free pattern.
Materials You'll Need
1️⃣ BEADING THREAD
If you're not sure what thread to use, nylon beading thread (e.g., Nymo size B) is a good place to start. Since there is a fringe component to this design, the fringe will lay nicer with nylon thread as opposed to monofilament thread, such as FireLine and WildFire.
If you're comfortable with switching thread, you can use Fireline or similar for the flat square stitch portion and nylon thread for the fringe.
2️⃣ BEADING NEEDLE
3️⃣ EARRING WIRES
4️⃣ SCISSORS/CUTTERS
5️⃣ MIYUKI 11/0 SEED BEADS
This design works best with a combination of a single solid color and a bead mix. If you'd like to re-create the exact design pictured, the matte cream-colored beads are Miyuki 2021. And I used my Crazy Quilt Bead Mix. But you can use any bead mix available in my shop. A pile of spilled beads also works great!
TECHNIQUE: FLAT SQUARE STITCH
If you haven't learned flat square stitch yet, it's easy to learn. There are lots of great tutorials to teach you how. I recommend starting by searching for "Flat Square Stitch" on YouTube.
Pattern Guidelines
Please feel free to use this pattern to make earrings for yourself and others as well as sell the earrings you make. But please do not claim the design as your own or sell the pattern.
And if you recreate these earrings, please consider giving me a mention and tag on Instagram. My username is @thebeadmix.
THANK YOU SO MUCH 💕
Browse Our 11/0 Bead Mix Collection