What beading thread to use?
This is a common question. And rightfully so. There are many options to choose from nowadays! And you may even need something other than beading thread.
For this resason, I'm going to discuss the two most common types of stringing material used with seed beads - beading thread and beading wire. I'll also mention some specific brands that are popular among bead artists as well as easy to find in craft stores and online.
Beading Thread
Beading thread is mostly used for bead weaving (on and off of a loom) and bead embroidery.
Bead weaving involves stitching seed beads together with thread. Some common techniques include peyote stitch, brick stitch, herringbone, and square stitch. You can use these stitches to create a flat "fabric" or a three-dimensional shape. A few specific projects that typically involve bead weaving include beaded fringe earrings, beaded rings, loom bead bracelets, and Russian spiral bracelets.
Bead embroidery involves stitching beads onto a piece of fabric or leather with a needle and thread. This is how beaded brooches are commonly made.
The type of thread you need and ultimately decide to use depends on several factors, including what you're making, your personal preference, what is recommended in the tutorial you're using, and so on. Whatever you choose, it's generally not recommended to use regular sewing thread. Beading thread is stronger and will hold up better.
Thermally Bonded Thread
Thermally bonded thread consists of synthetic fibers fused together by heat and coated with polyethylene. This results in a smooth and incredibly strong thread that doesn't stretch or fray. It's also waterproof and resistant to tangling. But even if it does tangle, the tangles and knots are easy to remove without compromising the integrity of the thread.
Two popular brands are FireLine and WildFire.
FireLine comes in 4 diameters (0.12 mm, 0.15 mm, 0.18 mm, 0.2mm) and 3 colors (crystal, smoke, and black satin). The crystal color works well with most bead colors. Smoke gray works wells with dark color opaque beads, but the color is known to rub off. For this reason, FireLine released the color black satin with a more permanent finish (although it's more expensive).
WildFire comes in 2 diameters (0.15 mm and 0.2 mm) and a larger variety of colors (beige, black, blue, frost, green, gray, pink, red). Many beaders say the green and gray colors blend beautifully with most beads.
The diameter or thickness of the thread you need depends on the hole size of the beads you're using and how many times you will pass through each hole. The 0.15 mm diameter threads will work for most applications with 11/0 seed beads.
It's important to note that thermally bonded thread doesn't knot as securely as nylon thread. This is good a thing when it comes to preventing tangling and knots when you're working. But it means that you may need to take extra precaution to secure your thread ends.
Nylon Thread
Nylon thread is softer than monofilament thread. Similar in feel to cotton sewing thread, but stronger. For this reason, some prefer to use nylon thread when making fringe earrings so that the fringe lays nicely and flows freely. Some may even use a combination of both thread types.
There are many brands of nylon thread available. One of the most commonly used thread is Nymo. Others include C-lon, Miyuki beading thread, and KO. 
Nylon thread is cheaper than monofilament thread and it comes in many colors. But nylon thread is more likely to split, tangle, and knot while you're working. However, you can often minimize these things by conditioning your thread with wax. Watch this short video by Cheyenne Anstice @thewholenessshop showing you how to apply wax.
It's also worth noting that nylon thread may stretch over time. So pre-stretching with a few good tugs is often recommended.
Nylon thread comes in various thicknesses. Again, the thickness you need depends on the hole size of the beads you're using and how many times you will pass through each hole.
With Nymo, size B and D is most often recommended for bead weaving or embroidery with 11/0 and larger seed beads. Size O or OO is recommended when working with 15/0 seed beads.
For C-lon, size D (general purpose) thread is best when working with 11/0 seed beads. Size AA (thin) is recommended for use with 15/0 seed beads.
In summary, the thread you choose depends on what you're making. And may often come down to your personal preference. Due to the cost, nylon is a great thread to start with.
Tutorials, patterns, and other guides will most often suggest which type or brand of thread to use. So that's also a great place to start.
As you get more experience and try different types of thread, you'll quickly learn which thread you like working with best 😊
Beading Wire
Beading wire is made up of thin strands of stainless steel that are bound together and coated with a thin coating of nylon, which protects the wire and gives it a softer feel. It's incredibly strong and easy to work with. It's an excellent choice for stringing projects and when you're working with larger beads.
Two popular brands of beading wire are Accuflex and Softflex.
They both come in multiple diameters and strands. What you choose depends on the degree of drape you'd like, the weight of your beads, and hole size of the beads you're working with.
When it comes to drape, 49-strand beading wires are most flexible and provide the "softess drape" as oppoased to 7-strand beading, which is less flexible and has the "firmest" drape. If you're working with small seed beads, 49-strand beading wire works great.
In terms of the best diameter to choose, check the hole sizes of the beads you're using. It's also important to consider what findings you'll be using to finish your ends. For example, are you using a crimp beads. If so, the beading wire must be able to fit through the hole of the crimp beads too.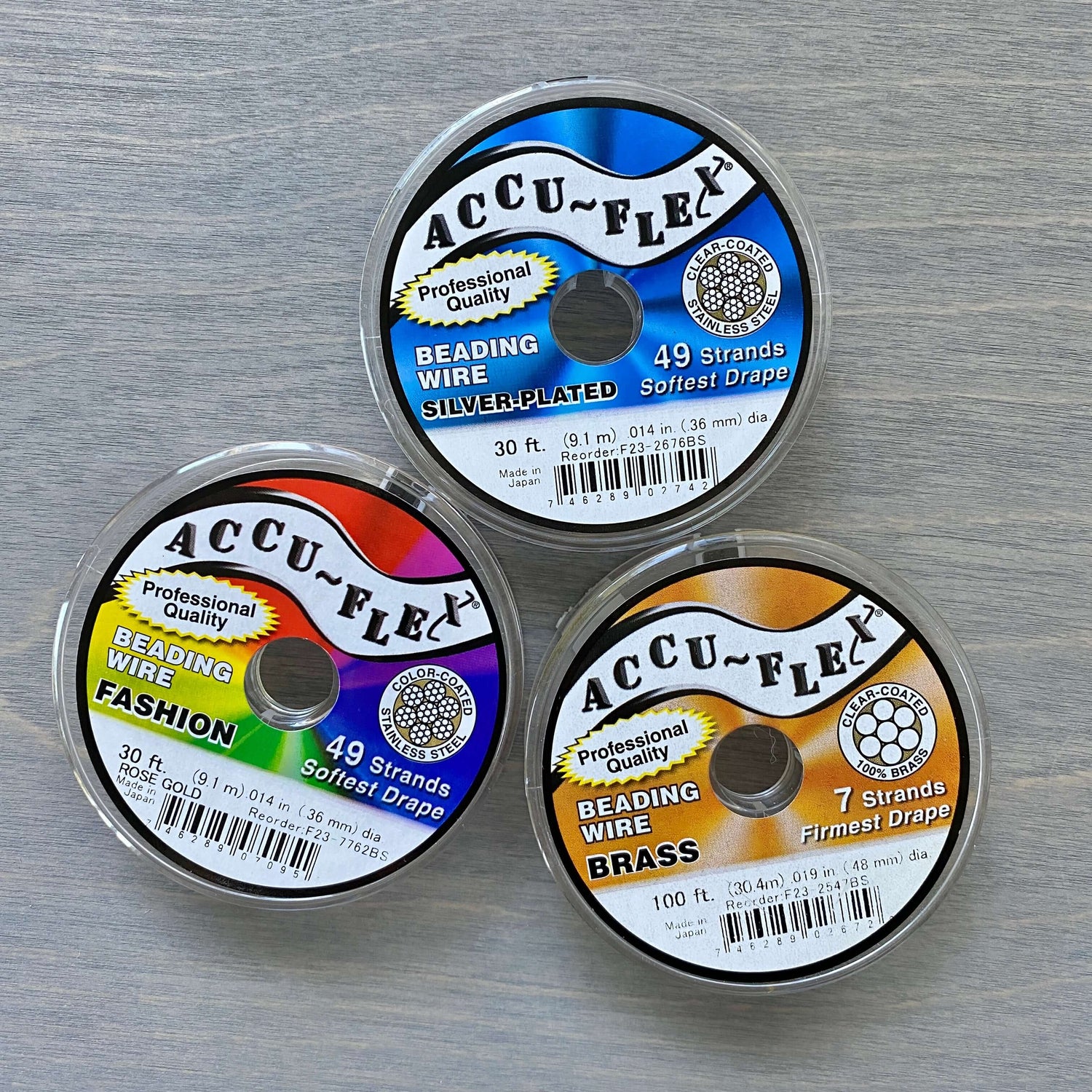 Elastic Cord
One more type of stringing material that you may need is elastic cord. It's most often used to make stretch rings and bracelets or anklets without a clasp. A great project for beginners, including tweens and teens.
It's best to use the thickest cord you can that will fit through the beads you're using. And my personal favorite brand of elastic cord is Stretch Magic. It's clear and comes in 0.5 mm, 0.7 mm, and 1.0 mm thicknesses (or diameters).
I personally find the 0.5 mm cord to be too thin and easy to break. For seed beads, I use the 0.7 mm cord. This cord will fit all the seed beads we offer. For larger beads, I use the 1.0 mm cord.
It's important to pre-stretch the cord to prevent it from stretching out on it's own over time. I recommend starting your strand with at least one larger hole bead that can be used to hide the knot. Once you've added all your beads, it's best to tie the cord with a surgeon's knot followed by at least one overhand knot and then gluing the knot with G-S Hypo Cement. You can then trim the excess cord and gently slide the knot inside the larger hole bead to hide it.
Got Questions?
I realize this is a lot to take in and sort through as a newbie. So if you still have questions, please don't hesitate to email us and we'll get back to you ASAP.