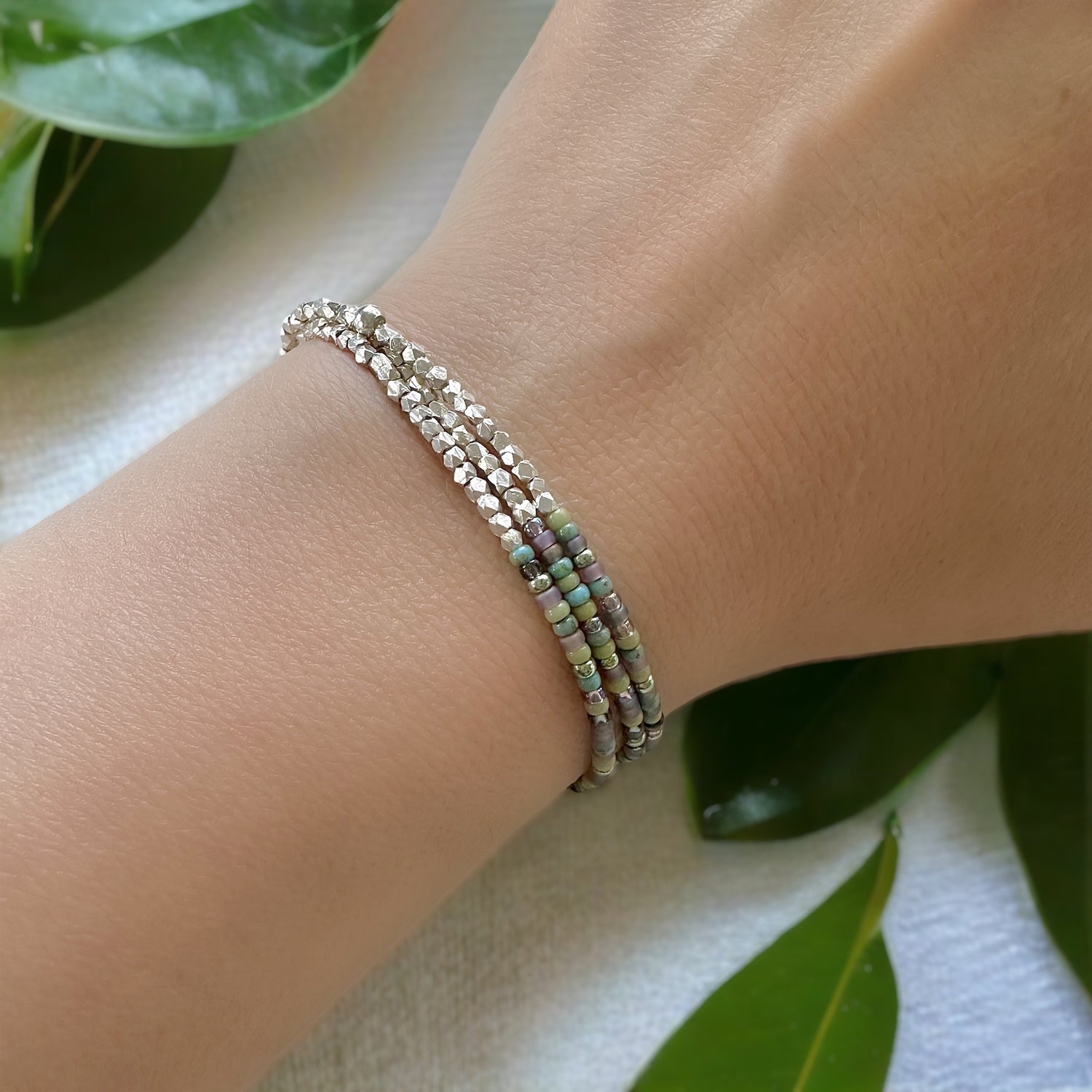 Triple-Wrap Seed Bead Stretch Bracelet
This beaded stretch bracelet was made with our Succulent 11/0 Miyuki seed bead mix and 2mm Karen Hill Tribe fine silver accent beads. But you can use any bead mix or accent beads you'd like. The possibilities are endless!
Scroll down to view all the materials you'll need and learn how to make these bracelets step by step. And please reach out with questions anytime!
Materials You'll Need
1️⃣ STRETCH CORD
I recommend using a stretch cord with a diameter of 0.7mm with our seed bead mixes. My favorite brand is Stretch Magic.
It's important to note that you need to pre-stretch the cord before stringing your beads. Cut your cord. Hold one end in your right hand and the other end in your left hand. Then pull your hands apart a few times to give the cord a good stretch.
2️⃣ SCISSORS
3️⃣ RULER
4️⃣ FAST-DRYING GLUE
The glue is used to secure your knots. My favorite glue for this application is GS Hypo Cement. It has a small precision tip that makes the glue easy to apply.
5️⃣ LARGE HOLE BEADS
I like to hide my knots in the hole of a bead. But the holes of the 11/0 Miyuki seed beads are too small. So I add at least one bead with a larger hole to fit the knots. This bead can be a decorative bead or it can blend in with the design. In the example below, you will see I used a 4mm gold-filled bead.
6️⃣ MIYUKI 11/0 SEED BEAD MIX
Choose any bead mix from our selection that you like best. By using one of our bead mixes, you'll effortlessly achieve a designer look.
7️⃣ ACCENT BEADS (OPTIONAL)
This is where you can add your creative touch. Pair the seed beads with other types of beads, such as pearls, gemstones, crystals, wood beads, etc. The possibilities are endless!
SIZING
The best way to ensure your bracelet will fit perfectly is to measure your wrist. You can use a flexible tape measure or a piece of string and a ruler. Snugly wrap the tape measure or string around the area of your wrist you like to wear your bracelets. The distance between where the starting point and ending point meet is your wrist size.
Now add 0.25 to 0.5 inches to your wrist size depending on how snug or loose you like your bracelets. This is the length of strung beads you will need per wrap.
For example, my wrist size is 5.75 inches. My bracelet size is 6.25 inches. So if I want to make a triple wrap bracelet, I need to string 18.75 inches of beads (6.25 x 3).
STEP 1

Add a piece of tape or clip to one end of the pre-stretched cord to prevent the beads from sliding off. String your larger hole bead first. Then string the rest of your beads until the desired length.

STEP 2

Once you've added all your beads, tie a surgeon's knot as shown. Start by crossing one side of the cord over the other to create an X. Then wrap one side of the cord around the other twice. Once again, cross one side of the cord over the other to create an X. But this time, only wrap one side of the cord around the other once. Pull tightly to secure the knot. For added security, tie one additional overhand knot.

STEP 3

Add a dab of glue to your knots.
STEP 5

Gently pull the knots into the bead hole and allow the glue to dry completely.
Browse Our 11/0 Bead Mix Collection